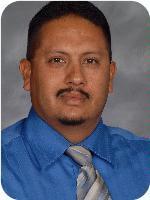 Letter from the Superintendent
Isidro Rodriguez
Thursday, August 15, 2019
Hello,
Welcome to Ducor Union Elementary School District web page. Ducor School is a small rural community south of the city of Porterville off Highway 65 and east of Earlimart off Highway 99. Ducor School is a K-8 school district. There are nine certificated instructors and nine classified support providers and three administrative support providers. Ducor School is extremely proud of our history, traditions, school mission and student achievements. I encourage you to visit Ducor when you have an opportunity.
I am excited to share with you who I am and my experience. Currently I am the Superintendent/Principal. My professional experience began teaching for thirteen year. I have had many great experiences working with many students and school districts. Currently, I have supported Ducor School as superintendent/principal since October 2014.
I am always learning and gaining experiences that I like to share with my students and staff members. I believe in teaching respect and responsibility. I work hard to create an environment of trustworthiness, hard work, responsibility and most of all FUN! I believe students and parents should be recognized for their achievements no matter how big or small. I believe in listening as well as leading by example. Ducor teachers and support providers work hard to help maintain a safe and encouraging environment. Challenges are overcome by learning and improving.
As Superintendent/Principal, I encourage our students to be taken on school field trips that support their current learning modalities. Our students our motivated ask questions and are encouraged to be positive role models. Ducor staff members have been the backbone for support and encouragement. With their dedication and self motivation to improve and to be successful, our students achieve higher expectations. Thank You to all the Ducor staff members.
Our parents are always encouraged to be part of their students learning environmental school. Either through daily volunteering, weekly visits, monthly award assemblies and chaperoning field trips. Having the parents support and encouragement will always make a difference in our students learning every day.
Please do not hesitate to call. I do appreciate your support. Thank you again for visiting Ducor School webpage.
Thank you.
Isidro Rodriguez, Superintendent/Principal